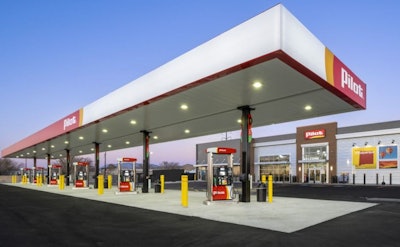 Pilot Company announced today a $1 billion, three-year plan to modernize and fully remodel more than 400 Pilot and Flying J travel centers.
The announcement of the plan, called New Horizons, was made during a call with the media this morning. Company officials said this marks the company's largest investment in store modernization to date.
The New Horizons project will be completed in several phases as the company progresses its store design and incorporates new innovations, according to the company. The first phase is now under way with more than 50 Pilot and Flying J travel centers planned to be renovated this year.
Based on guest and team member feedback, company officials said New Horizons includes:
top to bottom store overhauls
remodeling restrooms and showers
expanding kitchen and dining areas
improving driver-focused amenities
expanding digital engagement with guests
Installing state-of-the-art retail and fueling technology, including adding self-checkouts
more energy-efficient lighting for well-lit parking lots
Among future innovations is equipping stores with fueling alternatives, including electric vehicle charging stations, and developing a strategy to support low emission and zero-emission vehicles.
"For 63 years, we've been proud to fuel millions of journeys and as we have done since our founding, we will continue to evolve the travel center experience to meet the changing needs of our guests and team members," said Shameek Konar, Pilot Company CEO. "We are listening to what our guests want most at our locations and how we can improve our offerings to make their travels easier and more enjoyable. New Horizons will incorporate this feedback as we overhaul our entire network to deliver on what our guests value today and prepare our stores for the future."
As part of New Horizons, Pilot will donate more than $500,000 to support local school districts in the areas where it's building new locations or remodeling stores. The contributions will go towards providing students with equal access to educational technology.
Founded in 1958 and headquartered in Knoxville, Tennessee, Pilot has 750 locations in 44 states and five Canadian provinces with more than 790 restaurants, 75,000 truck parking spaces, 5,300 showers, 6,200 diesel lanes.