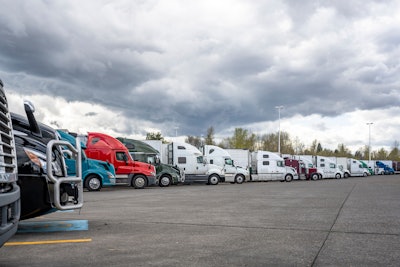 Legislation to fund the creation of more truck parking was approved today by a committee of the U.S. House of Representatives. Its next stop will be the full House.
The House Committee on Transportation and Infrastructure approved an amended version of the Truck Parking Safety Improvement Act through the markup process. The legislation was introduced by Reps. Mike Bost (R-Illinois) and Angie Craig (D-Minnesota).
If approved by the entire House and then by the Senate, the legislation would authorize the creation of a four-year, $755 million competitive grant program for states to fund new truck parking projects. These include capacity expansion and improvements like lighting, restrooms, and other security features.
The American Trucking Associations praised the committee's action on the bill.
"The lack of safe and accessible truck parking is an issue that causes serious concern for our industry," said ATA President and CEO Chris Spear. "Without it, drivers waste hours looking for secure places to park for an hour or for the night, hurting their ability to rest and adding undue stress to their days. Moving this legislation forward is a tremendous step toward addressing what has been (a) significant challenge to our industry's ability to safely and efficiently move the nation's goods.
"The availability of safe and secure truck parking is not just a challenge (for) current drivers, it is a barrier our industry must overcome in attracting new drivers – particularly women. Solving it won't just help today's industry, it will go a long way toward helping trucking recruit and attract a more diverse workforce," Spear said.
Access to truck parking is often highlighted in the American Transportation Research Institute's annual list of top issues facing trucking. ATRI research has found that on average drivers spend nearly an hour – 56 minutes – per day looking for parking. In ATRI's 2021 survey of top issues facing trucking, parking was ranked fifth among the top 10 issues.