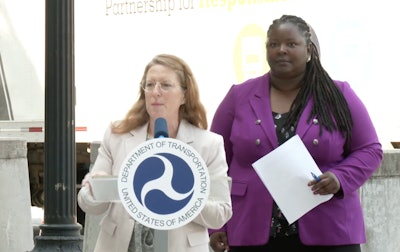 Saying she was "committed to drivers in the commercial vehicle industry above all else," Federal Motor Carrier Safety Administration Deputy Administrator Robin Hutcheson Thursday thanked drivers as part of the agency's observation of Driver Appreciation Day in Washington, D.C.
Her remarks came just hours after a tentative agreement was reached between freight railroads and the unions representing their employees. The contract agreement averted a nationwide strike that would have caused major problems for the nation's supply chain, the economy, and consumers.
Hutcheson said the Department of Transportation had been reaching out to industry stakeholders to understand what would have to be done to mitigate the effects of a rail strike.
"I want to say that in every conversation with the trucking industry and those who represent drivers, drivers were ready once again to help the American people through a crisis," said Hutcheson. "I am grateful we did not get to this point, but I'm also very confident that once again, like COVID, like supply chain issues, you were ready to step in and be our best partners. And, so for that, I want to say a tremendous thank you on behalf of the administration, on behalf of the Department of Transportation, on behalf of FMCSA, and on behalf of the American people."
Hutcheson also said there is "a focus on the driver" in the Bipartisan Infrastructure Law passed by Congress earlier this year.
"We have policy and research we have never had before that will allow us to focus on root causes of why people leave the industry, why we're unable to retain, and why drivers may not be the safest on the roadway," said Hutcheson. "That includes studying compensation structures, detention time, and what that means for drivers."
She also cited the newly formed Women of Trucking advisory board and a task force to study problems associated with truck leasing.
As part of the program, Hutcheson introduced a new safety-related campaign urging drivers to use seatbelts.
"The data show us that too often drivers are not buckled, they're in a crash, and they lose their life, That is preventable," she said.
Also speaking at the driver appreciation event was Deputy Secretary of Transportation Polly Trottenberg, who praised the efforts of drivers throughout the COVID pandemic.
"When we look at the efforts we've made to combat COVID and get our country and our economy moving again, we couldn't have done it without you all," Trottenberg said of truckers."This country owes you a debt of gratitude. You're our lifeline for everything we need; our goods, our medicines, you name it."
Several drivers also participated in the appreciation event. They included:
veteran driver Rhonda Hartman, who drives for Old Dominion Freight Lines
motor coach driver Harold Thompson
Schneider driver and training engineer KayLeigh McCall
owner-operator Carl Smith