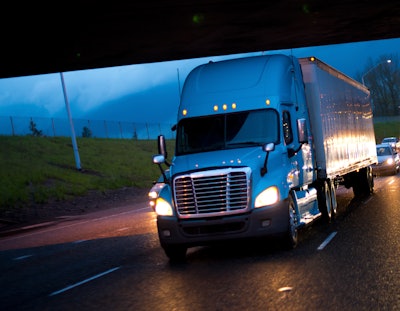 The Federal Motor Carrier Safety Administration seeks comments and data on the use of the regulatory relief granted by an emergency declaration issued in response to the COVID-19 pandemic.
The agency published a request for comments in the Federal Register on Wednesday, Sept. 7. The public now has 14 days to respond.
Comments may be made here.
In its request for comments, FMCSA said it issued Emergency Declaration No. 2020-002 in response to the March 13, 2020, declaration of a national emergency prompted by the COVID-19 outbreak. FMCSA said it then modified that original emergency declaration concerning the categories of supplies, equipment, and persons covered by it in to respond to changing needs for emergency relief.
The most recent extension of the emergency waiver occurred Aug. 31, extending the exemption until Oct. 15.
In September 2021, the FMCSA asked carriers operating under the emergency declaration report to the agency the number of trips conducted under the declaration and the commodities transported. FMCSA said based on a review of that information, the primary categories of commodities transported under the declaration are: food, paper products, and other groceries for emergency restocking of distribution centers or stores; and livestock and livestock feed.
FMCSA said in its request for comments two categories decreased by almost 50 percent between October 2021 and July 2022. They were:
medical supplies and equipment related to the testing, diagnosis, and treatment of COVID-19
supplies and equipment necessary for community safety, sanitation, and prevention of community transmission of COVID-19
In its request, FMCSA said, "The agency seeks public comment on the usage of the emergency declaration for the covered products. Specifically, if the usage is fit for the intended purpose of the limited relief. Commenters are encouraged to share with the agency the source of the data or information and provide recommendations on additional actions the agency should consider in monitoring the use of the declaration. Further, any data or information the Agency should use in determining whether continued extension or modification of the declaration is needed. The agency also seeks public comment on the safety and supply chain impacts of the emergency declaration."
The current waiver includes loads of:
Livestock and livestock feed
Medical supplies and equipment related to the testing, diagnosis and treatment of COVID-19
Vaccines, constituent products, and medical supplies and equipment, including ancillary supplies/kits for the administration of vaccines, related to the prevention of COVID-19
Supplies and equipment necessary for community safety, sanitation, and prevention of community transmission of COVID-19, such as masks, gloves, hand sanitizer, soap and disinfectants
Food, paper products and other groceries for emergency restocking of distribution centers or stores
Gasoline, diesel, diesel exhaust fluid, jet fuel, ethyl alcohol, and heating fuel, including propane, natural gas, and heating oil