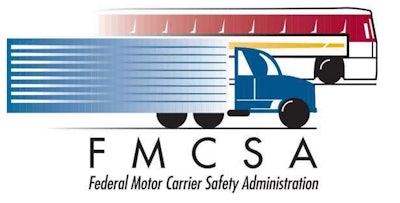 The Federal Motor Carrier Safety Administration Wednesday extended its waiver of regulations related to the COVID national emergency declaration. That waiver, as is detailed in a new alert at the FMCSA's COVID information page, exempts some truckers from maximum-drive-time limits in the hours of service (49 Code of Federal Regulations 395.3).
This latest waiver will be active beginning today, Sept. 1, through Oct. 15.
This latest extension of the waiver provides relief for carriers providing "direct assistance in support of emergency relief efforts related to COVID-19." It's limited to a list of the same commodities that were exempted with the last waiver, including:
Livestock and livestock feed
Medical supplies and equipment related to the testing, diagnosis, and treatment of COVID-19
Vaccines, constituent products, and medical supplies and equipment including ancillary supplies/kits for the administration of vaccines, related to the prevention of COVID-19
Supplies and equipment necessary for community safety, sanitation, and prevention of community transmission of COVID-19 such as masks, gloves, hand sanitizer, soap, and disinfectants
Food, paper products, and other groceries for emergency restocking of distribution centers or stores
Gasoline, diesel, diesel exhaust fluid (DEF), jet fuel, ethyl alcohol, and heating fuel including propane, natural gas, and heating oil
RELATED NEWS: FMCSA extends hours of service waiver for Kentucky flood relief
"Direct assistance," FMCSA said, doesn't include non-emergency transport of qualifying commodities or routine commercial deliveries, including mixed loads with a nominal quantity of qualifying emergency relief.
To be eligible for the exemption, the haul must be a load of qualifying commodities and also pursuant of the "immediate restoration of those essential supplies."