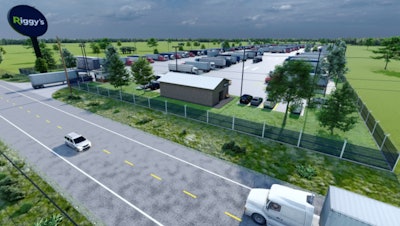 DryPort Capital, a commercial real estate firm located in Houston, plans a large new truck parking facility in Katy, Texas, which is about 30 miles west of Houston along Interstate 10.
The paid facility will have 326 tractor-trailer parking spaces that will be 75 feet by 12 feet. It will feature a 3,000-square-foot building with bathrooms, showers, and laundry facilities, LED lighting, security monitoring, and a private gate with a staffed guard shack.
The lot will be the latest addition to the company's chain of Riggy's truck parking facilities. It'll be located on US 90 west of Pederson Road near numerous distribution facilities and industrial sites.
Construction is set to begin in December, and be completed by the second quarter of 2023, according to All Homes News.
A new 230-space Riggy's parking facility is also in the works in the Memphis market. It's expected to open next spring.