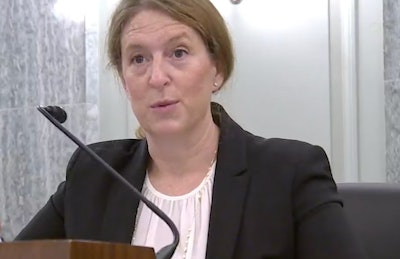 For the first time in three years, the Federal Motor Carrier Safety Administration has a full-time administrator.
On Thursday, the full U.S. Senate confirmed Robin Hutcheson to be the agency's administrator. She was confirmed by a unanimous consent vote.
Hutcheson was appointed deputy administrator in January and became acting administrator when then-acting administrator Meera Joshi resigned to accept a post in the administration of New York City Mayor Eric Adams. President Joe Biden in April nominated Hutcheson to be FMCSA's administrator Her nomination was approved in June by the Senate Commerce, Science, and Transportation Committee.
FMCSA didn't have a full-time administrator since Ray Martinez stepped down in October of 2019. The job was since held by Jim Mullen, Wiley Deck, Joshi, and Hutcheson, each as acting administrator.
RELATED NEWS: FMCSA's Hutcheson praises, thanks truckers at Driver Appreciation Day event
Two trucking organizations praised the Senate's vote.
The Truckload Carriers Association President Jim Ward said, "Speaking on behalf of the association, I am pleased to see this confirmation come to fruition. In the short time that she has been there, the Administrator has demonstrated a passion for safety improvement and a willingness to engage with the industry. We are looking forward to working with her on truckload-related safety measures in the future."
The American Trucking Associations' President and CEO Chris Spear also praised Hutcheson's confirmation as the FMCSA's seventh administrator.
"I want to congratulate Robin on her confirmation to this important role," Spear said. "In her time as Acting Administrator, Robin has been a true partner with our industry – working to confront a number of issues facing trucking.
"Whether it is addressing safety concerns, ongoing supply chain issues or workforce development, she has been open to engaging with our industry and we look forward to continuing our ongoing, candid dialogue about these challenges and to engaging with her and her agency to implement solutions that uphold safety and improve efficiency in trucking and across the supply chain."
Before joining FMCSA Hutcheson served as the deputy assistant secretary for Safety Policy for the U.S. Department of Transportation.
Before joining DOT, she was the director of Public Works for the City of Minneapolis, and before that she served as the transportation director for Salt Lake City.
Hutcheson also served as a consultant specializing in transportation and transit and has worked throughout the western United States, in London and France, and for the European Union Commission on Sustainability.