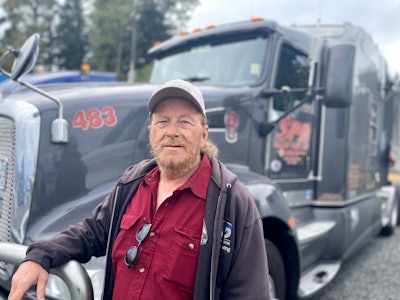 Smokey Point Distributing
Jerry Lee recalls his introduction to and unconventional training in truck driving.
"I was unemployed and broke and I got hired by a guy doing household moving," said Lee, who some 35 years later is a flatbed driver for Smokey Point Distributing, and just finished logging his 2 millionth safe mile.
Lee recalls he started out simply loading and unloading furniture. The guy who hired him, Roy Wagner, did the driving. But, at the same time, he was grooming Lee to be a driver.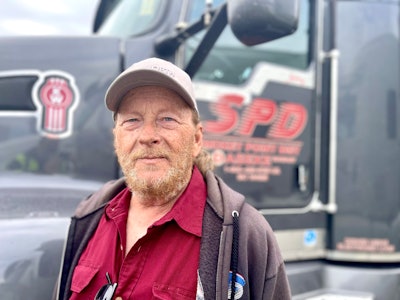 "The way that Roy had taught me was we actually talked about truck driving in different situations and I had to be able to say what I would do in any situation for six months," said Lee. "This went on until finally one night his wife was driving and she was like, 'Jerry, you know how to drive?' I said, yeah, but I'd never driven before. And so she put me behind the wheel. But, it was her husband Roy who had said to do that. And, I've been driving ever since. So I pretty much fell into truck driving just for chance."
Lee, who was from Seattle, delivered household goods for about 10 years before joining a company that hauled produce to military installations for part of the day and handled containers in the afternoons.
"Then one day, the owner of the company, he goes, 'Jerry, you know how to do flatbed?' I said, 'Yes,'" even though he didn't, recalls Lee. "He goes, 'You know how to strap?' I said, 'Yes.' He goes, 'You know how to tarp?' I go, 'Yes.'"
Lee continues how he became a flatbed driver:
"So he sends me down after a load of lumber. One thing I've learned is observation. (It's how) you will learn the most. So I had four or five trucks ahead of me and I watched the way they tied down the loads. I just kind of copied it 'cause they all did it basically the same.

"Then I went to the truck stop not having a clue how to tarp. So I walked around the truck stop and looked for the nicest looking tarp job. So I'm walking around this truck looking at it and an older gentleman comes out and he goes, 'Uh, can I help you?'

"I told him, I said, 'Well, I kinda lied a little bit to my boss that I knew how to do this.' He goes, 'Well, I'll show you how to do it. I'm not gonna touch a thing, you're gonna do everything. Then you're buying dinner.'

"That's the first tarp job I ever did in my life and I've been doing it ever since. And, I don't know if I should cuss that guy out or thank him."
Lee's unconventional approach to learning the finer points of load securement and tarping has stood him in good stead over the years. In fact, it's also what he tells others as well.
"It's like I tell a lot of our newer drivers or anybody doing this," said Lee. "Every load you see, every truck you see is an example of either what to do or what not to do. And that's how I've learned a lot or asked questions. I guess. It's served me well so far."
Today, Lee hauls mostly aerospace loads for Smokey Point Distributing, which is one of the companies of the Roadmaster Group in Daseke, Inc.
When asked how it felt to have accumulated 2 million safe miles, Lee said, "It's kind of unbelievable with the way things are nowadays. You have to really be observant, know what's going on around you and be ready for any kind of idiotic thing that happens out there. And they happen on a daily basis.
"You have to anticipate what other people do. People are creatures of habit. (They) get in the car and everything revolves around them. And a lot of times they don't pay attention and so you have to pay attention for them and just do the best you can to avoid bad situations."
One of the things Lee does to ensure he avoids those bad situations is to plan. But, he also stands ready to make adjustments to that plan.
"You plan where you're going to stop, especially nowadays with electronic logs," said Lee, whose grandfather spent time as a trucker. "I feel that if you plan, you know where your day starts, and you pick a spot where you want to stop for the night. But, because of traffic or construction, you have to plan ahead as you realize you're not going to make it there. You have to have a secondary stop or a third. You just have to plan what you're doing."
Lee said he also tries to avoid places where there's likely to be a higher chance of encountering problems. That's something Lee said Smokey Point allows its drivers to decide.
"We might travel a little bit farther," said Lee. "Like on some of my routes I might go a little bit more by going around instead of running through a major city. And, that goes back to planning. If you plan what you're doing and have a company that will have faith in you, that's the winning team right there."
Travis Redenbaugh is part of that winning team. He's director of driver services at Smokey Point, and is familiar with Lee's driving, and knows how he reached 2 million miles.
"We've worked together now going on 11 years and he's just always somebody that I can rely on," said Redenbaugh. "We often refer to our freight as 'sexy freight.' It's freight that people look at when you're going up and down the road because it's interesting; it's not just a box. If I've got a special something that I need for our company to look good at, we know that we can send Jerry in there because his equipment is always going to be topnotch. And, he's just extremely reliable and extremely good at what he does."
That's something Lee has taken seriously for each of those 2 million miles.
"The biggest responsibility a driver has is to get the customer's product from point A to point B and to protect the motoring public," said Lee. "You do that, and, as long as you end the day and you're happy with what you've done, you really can't do a whole lot more."
___
Smokey Point also has 11 drivers who have logged over a million safe miles. They include:
Kim Foss

Randy Foss

Mike Green

Thomas Deas

Wendy Facklam

Ray Larson

Jeff Neu

Wendell Barbour

Mirella Dale-Macho

Cliff Michl

Jason Artis