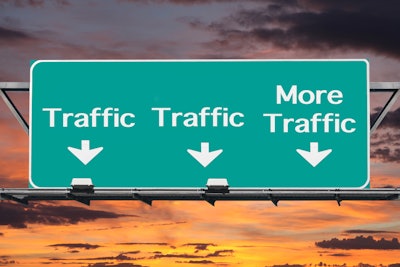 Truckers should expect to share the nation's highways with near-record numbers of holiday travelers beginning later this week. In addition, another major winter storm and arctic-like temperatures will add to driving problems across much of the U.S. as the Christmas weekend nears.
AAA estimates 112.7 million people will journey 50 miles or more away from home from Friday, Dec. 23 to Monday, Jan. 2. That's an increase of 3.6 million people over last year and closing in on pre-pandemic numbers, according to AAA's forecast. That means 2022 is expected to be the third busiest year for holiday travel since AAA began tracking in 2000.
Most of those travelers will be hitting the nation's highways, says AAA. Nearly 102 million Americans will drive to their holiday destinations. Despite roller-coaster gas prices in 2022, this holiday season will see an additional 2 million drivers compared to 2021. Travel by car this year is on par with 2018 but shy of 2019 when 108 million Americans drove out of town for the holidays, the highest year on record, according to AAA.
Many of those travelers -- as well as truckers working this holiday season -- will encounter weather-related travel problems as the National Weather Service warns of a powerful winter storm for the Central Appalachians, eastern Great Lakes, Mid-Atlantic, and Northeast. That storm is expected to include a mix of strong winds, rain, and snow that could make travel dangerous leading up to the holiday weekend.
A bitterly cold Christmas also is expected for much of the Central and Eastern U.S. as a blast of arctic air is expected to sweep in late in the week. Below-freezing temperatures are forecast even for parts of southern Texas, the Gulf Coast, and Florida over the weekend and into the following week, the Weather Service said.
The bitterly cold temperatures and an intensifying storm system over the Rockies and Central Plains by midweek will mean treacherous travel for many locations along and east of the Rockies, the Weather Service said.
INRIX, a provider of transportation analytics and insights, expects the most congested days on the road to be Friday before Christmas, Dec. 27 and 28, and on Monday, Jan. 2, as travelers mix with commuters. In major metropolitan areas, especially in Los Angeles and New York City, drivers could experience double the typical delays. Nationwide, drivers could see travel times up to 25% longer.
"With pre-pandemic levels of travelers hitting the road this holiday, drivers must be prepared for delays in and around major metro areas, with Tuesday, Dec. 27 expected to be the nation's worst day to travel," says Bob Pishue, transportation analyst at INRIX. "Our advice is to avoid traveling during peak commuting hours. If schedules allow, leave bright and early or after the afternoon commute."