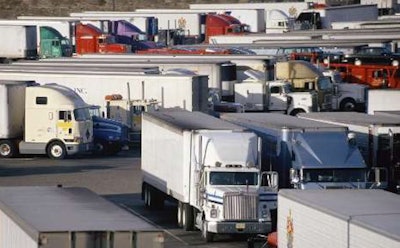 A majority of Americans favor the government funding the development of more truck parking, but they just don't want it built near their homes.
Those are a couple of the key takeaways from a new truck parking survey by CloudTrucks, a San Francisco-based technology and service provider for truckers. CloudTrucks' 2023 Truck Parking Shortage Survey also found that while most Americans regard truck drivers favorably and value their service, many are not aware of the chronic parking issues faced by drivers.
CloudTrucks said it surveyed 1,000 adults across the U.S. about their general perceptions of truck drivers and whether they had heard of the truck parking shortage. The survey subsequently presented descriptions and data on the shortage from the American Transportation Research Institute and Federal Highway Administration and asked respondents about their opinions on possible solutions.
Key findings from the survey include:
Americans highly value truck drivers and their service. Respondents said they feel truck drivers are "overworked" (82%), "underpaid" (58%) and "safer drivers than the general public" (50%).
The truck parking shortage and its impacts are not well known among the general public. Fifty-six percent of respondents said they had never heard of the truck parking shortage. Fully 21% did not know that drivers typically sleep in their vehicles.
Most Americans are in favor of more truck parking, but not too close to their homes. When presented with descriptions and data on the issue, 86% of all respondents called the parking shortage a "significant" or "critical" problem and 90% said increased public awareness of the issue is necessary. CloudTrucks said 95% of respondents support the construction of new overnight parking facilities for truck drivers, but the majority (80%) would only support facilities that are at least 3 miles from their homes.
Many feel government support is needed to address the parking shortage and support truck drivers. The survey found 67% called for increased government funding for truck parking infrastructure, such as truck stops and rest areas; 43% called for relaxed zoning and land use regulations in order to make way for more parking; and 40% advocated providing tax incentives to truck stop chains and other private companies to create more parking.
Many respondents underestimated how many hours a trucker is permitted to drive in a day. Almost a third of respondents -- 34% -- 34% said "a trucker cannot drive more than 8 consecutive hours," when federal regulations allow truckers to drive up to 11 hours of daily drive time and be "on duty" for up to 14 hours.
RELATED NEWS: New Riggy's parking facility planned for Katy, Texas west of Houston
The survey also asked if respondents had encountered any safety issues that could have been caused by a lack of truck parking. Forty-one percent said they had experienced "trucks parked on the side of the road in a way that made it unsafe to pass," and 38% said they had seen "trucks with drivers who appear to be drowsy or falling asleep at the wheel."
"It is well known across the trucking industry that providing drivers with more parking will boost safety and productivity, and it is promising to see widespread support for more truck parking from the general public," said Tobenna Arodiogbu, co-founder and CEO of CloudTrucks. "We support solutions like the Truck Parking Safety Improvement Act and seek to establish parking partnerships for our own drivers. We all can play a part in ensuring that the resources provided to truck drivers are proportional to how much we value their service in our economy."