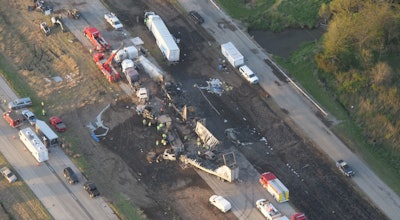 Illinois State Police
Interstate 55 south of Springfield, Illinois is open again today following Monday morning's series of collisions involving more than 70 vehicles, including some 30 tractor-trailers, two of which caught fire and burned. Six people died and more than 30 were hospitalized with injuries in the pileups that spread over a two-mile section of the highway about 20 miles south of Springfield near Divernon.
Illinois State Police and the state Department of Transp[ortation said the collisions were caused when high winds blew dust from nearby farm fields across the interstate reducing visibility to zero.
ISP said at 10:55 a.m. there was a crash on northbound I-55 at mile marker 76. At the same time, there were numerous crashes in the southbound lanes at mile marker 76. The crashes occurred within a two-mile stretch between mile markers 76 and 78.
According to the Springfield Fire Department, one of the tractor-trailers that burned was a fuel tanker. The other was a dry van loaded with power tool batteries.