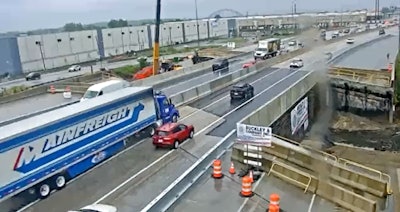 PennDOT traffic camera
The section of Interstate 95 in Philadelphia that collapsed in a June 11 tanker crash and fire is expected to reopen today at noon.
Truckers using the newly created lanes should expect a tight squeeze. Pennsylvania Department of Transportation Secretary Mike Caroll said there will be three, 11-foot-wide lanes in each direction but no shoulders. There will also be a 45 mph speed limit.
As they have throughout the reconstruction effort, officials took another unusual step to ensure the six temporary lanes would be ready for traffic. A truck-mounted jet dryer normally used to dry the surface of the Pocono Racetrack was called in to dry the surface so lane stripes could be painted.
Those lanes were paved over top of 2,000 tons of recycled glass nuggets used to fill from the street where the crash and fire occurred to the level of the interstate. Plans call for a permanent replacement overpass to be built.
Today's opening is the climax of an "all hands on deck" approach announced by Gov. Josh Shapiro shortly after the overpass collapsed. Crews worked around the clock to create the temporary lanes and get traffic moving across this portion of I-95, a primary north-south route for local commuters and especially for freight haulers. It's been estimated 160,000 vehicles a day pass over this portion of I-95.
A 24/7 live stream of the project allowed viewers to follow the project.
Nathan Moody, a 53-year-old trucker from New Jersey died in the June 11 crash. His tanker truck loaded with gasoline rolled over and caught fire under the I-95 overpass. The blaze destroyed the supports of the northbound lanes and compromised the southbound lanes.