It was more expensive to be in the trucking business in 2022 than the year before, and one of the reasons was it cost more to pay drivers. Another was it cost more to put diesel in the trucks.
Those are just two of the cost increases revealed in the American Transportation Research Institute's 2023 update of its Analysis of the Operational Costs of Trucking. The results of the ATRI study were released Wednesday. You can get a copy of the entire report here.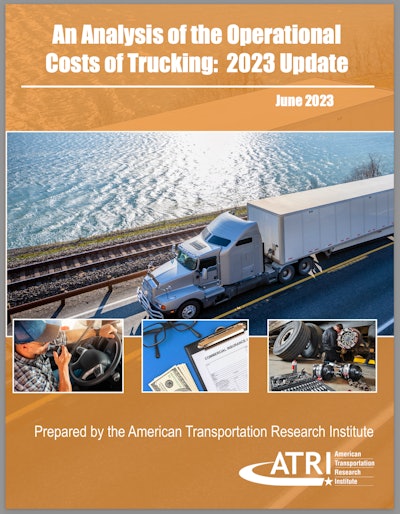 ATRI said total marginal costs climbed to a new high in 2022 for the second year in a row, increasing by 21.3 percent over 2021 and crossing the two-dollar threshold for the first time at $2.251 per mile.
Though fuel was the largest driver of this spike (53.7% higher than in 2021), multiple other line items also rose by double digits. Driver wages increased by 15.5 percent, to $0.724 per mile, reflecting the ongoing industry effort to attract and retain drivers. Driver benefits, however, remained stable in 2022, according to ATRI.
A record number of motor carriers participated in this year's research, which analyzes a wide variety of line item costs, operating efficiencies, and revenue benchmarks by fleet size and sector.
ATRI said atypical market conditions posed unique challenges for acquiring and maintaining equipment in 2022. Truck and trailer payments increased by 18.6 percent to $0.331 per mile as carriers paid higher prices, largely due to equipment impediments in the supply chains. Closely related, parts shortages and rising technician labor rates pushed repair and maintenance costs up 12 percent to $0.196 per mile.
In response to rising costs, motor carriers initiated improvements in key operational efficiencies. For example, driver turnover, detention times, and equipment utilization each improved across nearly every fleet size and sector during 2022, according to the ATRI study. This year's report includes new metrics such as mileage between breakdowns and the ratio of truck drivers to non-driving employees.
Despite falling rates throughout the year, average operating margins were at least 6 percent in all sectors. While larger fleets' average operating margins improved from 2021 to 2022, smaller fleets saw operating margins decline.
Driver Pay
Total driver compensation rose by 12.3 percent in 2022 – an even greater rate of increase than in 2021 – while employment in the trucking industry grew despite a softening freight market.
On average, the trucking industry spent 90.7 cents per mile on combined driver pay and benefits in 2022. Though benefits did not increase from 2021, wages rose more than 15 percent. Truckload wages tended to increase as fleet size increased –- a reversal of last year's results –- where larger truckload fleet size categories spent slightly less than their smaller competitors. In other words, larger fleets increased company driver wages by a greater percentage in 2022.
Specialized carriers' driver wages had an even stronger tendency to increase with increasing fleet size, according to ATRI. The size of this pay differential is partly because many small fleets in this sector had more highly specialized operations, which often included supplemental pay or bonuses – such as load-specific oversize or loading pay – that larger fleets were less likely to offer.
In 2022, LTL carriers paid an average of 78.0 cents per mile in driver wages, compared to 70.2 cents per mile in 2021. In the last year, the gap between LTL driver wages and historically lower truckload driver wages has become smaller, in part under pressure from a competitive labor market.
Driver Benefits
Average truckload driver benefits costs increased with fleet size. Whereas in 2021 there was little difference in benefits costs among the largest four truckload fleet size bins, in 2022 truckload fleets with more than 250 trucks increased benefits spending at a greater rate than their truckload peers.
Eleven percent of truckload carriers did not offer benefits.
The average driver benefits cost for LTL carriers was 28.0 cents per mile, substantially higher than any other fleet sector or size category. The high figure in the LTL sector was exclusively responsible for the slight increase in the overall industry average benefits cost per mile in 2022. Specialized carriers of all fleet sizes spent less on benefits in 2022 than in 2021 on average. Specialized fleets' benefits costs once again peaked in the 101 to 250 truck category and declined among larger fleets.
Thirteen percent of specialized carriers did not offer benefits.
The most common company driver benefits offered by carriers were health insurance (offered by 97% of carriers) and paid vacation (offered by 91%).
The percentage of carriers offering per diems declined, while the percentage of carriers offering paid sick leave increased. Eleven percent of carriers engaged in employee ownership or profit-sharing arrangements.
Driver Bonuses
Driver bonuses have become an important supplemental form of compensation, and a majority of carriers offered them in 2022, according to the ATRI findings. One primary reason is that bonuses reward specific performance goals for both the carrier and the driver. For some specialized carriers in particular, driver bonuses form a substantial portion of overall compensation.
Starting bonuses in 2022 continued to be the highest among the four categories, as carriers competed for talent in what remained a competitive labor market. That said, starting bonuses are only given once, whereas other bonus types are awarded more often. Referral bonuses, added for the first time this year, were the second-highest bonus. Retention bonuses in 2022 recovered from a 2021 dip. Some carriers award retention bonuses annually, but others do so at certain milestones, such as every five years of continuous employment. Safety bonuses fell from a 2021 high. Though they remain high historically, safety bonuses' considerable drop comes at a time when crashes and crash costs, including litigation, are going up.

ATRI's research also found:
Truckload, tanker, and refrigerated carriers each had three drivers for every non-driving employee on average in 2022. Flatbed carriers had a slightly higher average of 3.3 drivers for every non-driving employee. LTL carriers, with their much more personnel-intensive business model, employed just 1.4 drivers for every non-driver.
Turnover rates declined in almost every sector and fleet size category from 2021 to 2022, possibly due to driver concerns about falling freight volume. Smaller fleets generally have lower turnover regardless of sector while larger fleets generally have turnover rates that exceed 50 percent. Truckload carriers experienced higher turnover than all other sectors except in fleets with fewer than 100 trucks. In 2022, though, truckload fleets of all sizes saw improvements in turnover rates, with the strongest improvement in fleets with more than 1,000 trucks.
Speed governor use remained high in 2022, at 93 percent of carrier respondents. This was in part due to 2022's exceptionally high fuel costs, as speed governors help improve fuel efficiency. There is a historical relationship between a year's average diesel price and the percentage of carriers utilizing speed governors.
ATRI said the bearish economy in 2023 will create considerable uncertainty for carriers, who will need to carefully monitor and prioritize costs in order to maintain financial stability. Despite an adverse economic climate, the trucking industry has made strides over the previous two years – in newer equipment, more competitive driver compensation, and improved operations – that put it in a good position to meet these challenges.