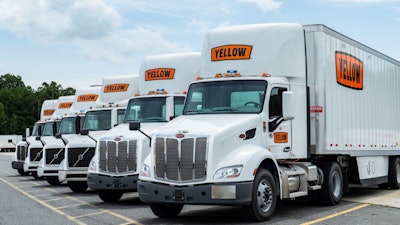 Yellow
Less-than-truckload giant Yellow Sunday filed for Chapter 11 bankruptcy in a federal court in Delaware, and in the process blamed the International Brotherhood of Teamsters, saying the company "faced nine months of union intransigence, bullying, and deliberately destructive tactics" by the union.
In a statement issued late Sunday night, Yellow said it planned what it called an "operational wind-down." Yellow said it expected the bankruptcy court to grant it debtor-in-possession financing so it can pay obligations including employee wages, salaries and benefits, taxes, and certain vendors and other providers of essential goods and services. The debtor-in-possession financing would also provide funds for the marketing and sale process.
In its announcement, Yellow said it would also repay the $700 million loan it secured from the federal government during the COVID-19 pandemic. In all, Yellow has $1.5 billion in secured debt.
"It is with profound disappointment that Yellow announces that it is closing after nearly 100 years in business," said Yellow's Chief Executive Officer Darren Hawkins. "Today, it is not common for someone to work at one company for 20, 30, or even 40 years, yet many at Yellow did. For generations, Yellow provided hundreds of thousands of Americans with solid, good-paying jobs and fulfilling careers."
Hawkins also placed blame for the demise of the nearly 100-year-old company, which employed about 30,000 workers, including 22,000 drivers, squarely on the union to which those drivers belong.
"All workers and employers should take note of our experience with the International Brotherhood of Teamsters and worry," said Hawkins. "We faced nine months of union intransigence, bullying and deliberately destructive tactics. A company has the right to manage its own operations, but as we have experienced, IBT leadership was able to halt our business plan, literally driving our company out of business, despite every effort to work with them."
When Yellow notified the Teamsters Sunday, July 30 of its intention to file for bankruptcy, the union's General President Sean M. O'Brien said, "Today's news is unfortunate but not surprising. Yellow has historically proven that it could not manage itself despite billions of dollars in worker concessions and hundreds of millions in bailout funding from the federal government. This is a sad day for workers and the American freight industry."
Yellow had been working on One Yellow, a plan to consolidate some of its operations to become a super regional carrier and make it more competitive with non-union carriers. The first part of that plan was completed with union approval last year. Yellow said, "redundancies were reduced, freight departed terminals earlier and customer service improved."
However, the union did not support the next phase of the One Yellow plan. As a result, Yellow claims it lost some $137 million, and sued the union for that amount. The Teamsters threatened to strike, which Yellow claims prompted customers to seek the services of other carriers.
"While IBT leaders may believe they won a battle against Yellow, it's our employees and their families who have lost," said Hawkins. "We tried everything to work with IBT leadership and did all we could to save employees' jobs. We are crushed by today's announcement, yet we are grateful to our tens of thousands of employees who took care of our customers until the end. Our employees are professionals who, despite heavy hearts, worked diligently to clear the docks, deliver remaining freight, and close our terminal doors one last time. It is with this same professionalism that we intend to wind down our business, maximize recoveries for creditors and pay back the CARES Act loan in full."