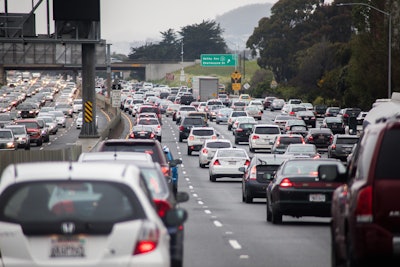 Keep Smiling Photography / Shutterstock.com
AAA projects 55.4 million travelers will head 50 miles or more from home over the upcoming Thanksgiving holiday travel period, and truckers will have to share the nation's highways with most of them.
This year's Thanksgiving forecast is an increase of 2.3% over last year and marks the third-highest Thanksgiving forecast since AAA began tracking holiday travel in 2000. The top two years were 2005 and 2019.
Most Thanksgiving travelers will drive to their destinations. AAA projects 49.1 million Americans -- or 88.7% of holiday travelers -- will get behind the wheel, an increase of 1.7% compared to 2022. Wednesday, Nov. 22 is expected to be the busiest day for travel.
For the purposes of this forecast, the Thanksgiving holiday travel period is defined as the five-day period from Wednesday, Nov. 22 to Sunday, Nov. 26.
"For many Americans, Thanksgiving and travel go hand in hand, and this holiday, we expect more people on the roads, skies, and seas compared to 2022," said Paula Twidale, Senior Vice President of AAA Travel. "Travel demand has been strong all year, and AAA's Thanksgiving forecast reflects that continued desire to get away and spend time with loved ones."
AAA is forecasting when to expect the heaviest traffic and the best times for travel. That forecast includes:
Wednesday, Nov 22
Busiest time for travel: 2-6 p.m.
Best time to travel: Before 11 a.m.
Thursday, Nov 23
Busiest time for travel: 11 a.m. to 3 p.m.
Best time to travel: 10 a.m. to 5 p.m.
Friday, Nov 24
Busiest time for travel: 12:00 – 4:00 PM
Best time to travel: Before 11 a.m. and after 7 p.m
Saturday, Nov 25
Busiest time to travel: 3-5 p.m.
Best time to travel: Before noon
Sunday, Nov 26
Busiest time to travel: 3-5 p.m.
Best time to travel: Before noon