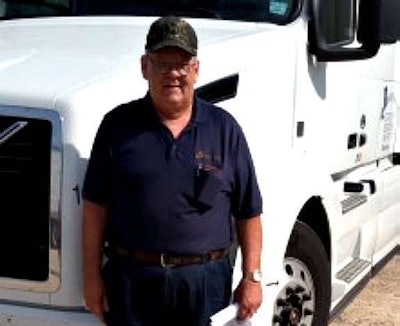 Herman Raburn
Nominated by LaWana Hohenberger, Employee
Like anyone devoted to a career, Herman Raburn has disappointments as well as triumphs in the way that the industry has changed.
One of the reoccurring subjects throughout this interview was the truck-driving schools. Raburn does not agree with the way that the modern driver is trained. He shares his regret that, "They have so many young guys coming in that don't understand the principle of the road. 'You work together. Together, we can accomplish almost anything. They don't understand that.'"
It seems that the root of Raburn's nostalgia lies not only in the common human element of hungering for "the old days", but in the loss of the closely knit trucking family that once flourished on the roads of America.
Each expression of dissatisfaction with the training customs of today sent Raburn yo-yoing back into the early seventies when, "You would be going down the road and you'd see a truck on the shoulder—nine times out of ten he was broke down—and there would be four or five trucks pulled onto the shoulder to help.