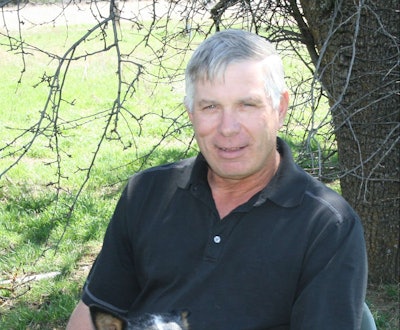 Editor's Note: Truckers News will be publishing stories about truck drivers whose friends, families and others have nominated them in Truckers News' iLuvMyTrucker recognition program, which culminates during National Truck Driver Appreciation Week Sept. 13-19. Do you <3 a truck driver? Tell us about her or him.
Jim Estes
Nominated by Sharon Estes, wife
My husband means the world to me. I cannot imagine my life without him.
We've been married for 36 years; have four wonderful young men and nine grandchildren. He is the true patriarch of this family. He set the pace for our boys. Hard-working, never says quit.
Even though he hates being away from home, he does it to provide a living for us, for our future.
He is tender-hearted with the grandchildren, loves to spend time with me even if it's just a walk in the evening. He is so proud of our boys and our grandchildren. He is a third-generation farmer/rancher.
He has had his CDL since he was 19, driving a hay truck on the ranch here in Northern California. He has driven for other people, but he is his most happiest since getting his own authority in 2008. He loves visiting with truckers while on the road. He is interested in everything! He can figure out anything. I love how his mind works. He loves this country and he is a true patriot.