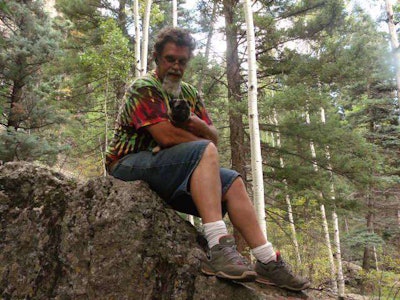 Editor's Note: Truckers News will be publishing stories about truck drivers whose friends, families and others have nominated them in Truckers News'iLuvMyTrucker recognition program, which culminates during National Truck Driver Appreciation Week Sept. 13-19. Do you <3 a truck driver? Tell us about her or him.
Anthony (Tony) Fishback
Nominated by Adana Fishback, wife
We started out driving as a team, and had a wonderful time with many great adventures! But, after I fell from the truck and suffered a head injury, I could no longer drive, and Tony had to continue driving solo.
A few months after my fall, he was diagnosed with liver cancer. He took 5 months off to go through chemo treatments, and even though he wasn't feeling the greatest, he went back over the road.
At this time, his cancerous tumors have responded to treatment, but there are several spots and lesions that have a very strong possibility of turning into tumors in the near future.
It is very hard being an over the road truck driver and go through an illness like cancer. There are constantly tests that need to be done, and trying to get his appointments scheduled and get him home for them can be very challenging. But he has handled it like a trooper, and even though the symptoms of his illness can get him down sometimes, he pushes on!
I love him so much, and can't imagine my life without him!