USA Truck Inc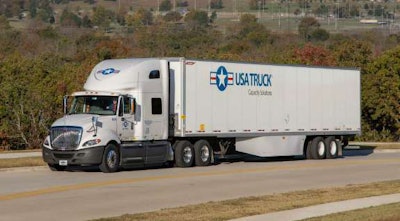 ., which is based in Van Buren, Arkansas, is a finalist for the 2017 Most Valuable Employers for Military recognition.
Awarded by RecruitMilitary, MVE recognition helps veterans identify employers to target for civilian careers.
"Nearly 30 percent of our driver team members are U.S. military veterans," said James D. Reed, USA Truck president and CEO. "Clearly, we put a premium on hiring veterans, and we're honored to have our efforts recognized by such a prestigious organization."
MVEs are selected annually based on those employers whose recruiting, training and retention plans best serve military service members and veterans.
Winners will be announced in the May issue of RecruitMilitary's Search & Employ magazine.