A major refrigerated carrier is increasing pay for drivers this fall and adding more paid vacation time at the start on the new year.
Southern Refrigerated Transport, which is based inTexarkana, Arkansas, announced the new compensation package Wednesday, July 12.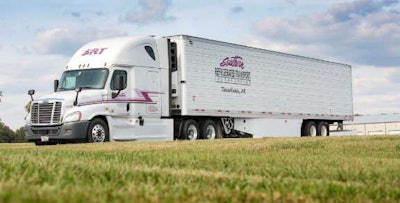 A statement from the company said mileage-based drivers will earn an additional one cent per mile on every load when the increase begins Oct. 1. The increase is equal to about a $1,000-a-year raise on average, for company drivers and owner-operators, according to the company.
Also going into effect Oct. 1, student drivers at SRT will see an increase in weekly wages during training, while drivers with at least one year at SRT will now receive holiday pay on both Thanksgiving and Christmas.
Additionally, all drivers with three years at SRT will be eligible to receive two weeks of paid vacation, effective Jan. 1, 2018. Drivers previously earned a maximum one week of paid vacation, on top of normal home time, and normal holiday pay, the company said.
"It's just a nice 'thank you,'" said Terri Lafayette, director of recruiting at SRT. "These folks work with devotion day-in-and-day-out. We know how reliant we are on them."
Billy Cartright, COO and executive vice president at SRT, said the changes to driver compensation represent the company's commitment to its people and goals.
"We want to be competitive in the marketplace with our driver pay, and we want to take care of our professional drivers," he said. "They keep America moving forward and are critical to the success of SRT."
Southern Refrigerated Transport is a wholly-owned subsidiary of Covenant Transportation Group, Inc.