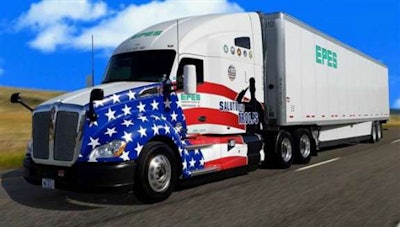 Epes Transport System, Inc. of Greensboro, North Carolina, announces new pay plans for both company drivers and independent contractors.
For company drivers, Epes raised its per-mile pay by 2 cents. Independent contractors have all been changed to percentage based pay.
The company says this represents "an investment of more than $1 million" in its drivers.
"This spring, we improved our independent contractor pay package which has led to sustained growth," said Phil Peck, vice president of operations for Epes. "In the summer, we increased the hourly pay for local drivers, as well as mileage pay for all company drivers, including regional operations.
"We will continue to look at improvements that enhance the driver experience and satisfaction at Epes Transport and give back to our most valuable asset, our drivers."
Epes is a privately-owned truckload common and contract carrier most active in the eastern two-thirds of the U.S. In addition to its headquarters, Epes has terminals located in Charlotte, North Carolina; Rockwall, Texas; Chester, Virginia; Morristown, Tennessee; and Valdosta, Georgia. Its dry van regional division operates in the Southeast, Southwest, Midwest, Northeast and Texas. Epes also has a dedicated division with over 50 operations located in several Southeast and Gulf Coast states.