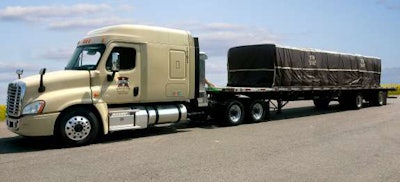 Hornady Transportation, LLC., a Daseke company, Friday announced it has created a weekly minimum pay guarantee of $1,000 for company drivers.
"Drivers are the heart and soul of our company, and they make sacrifices by being away from home and loved ones," said Chris Hornady, CEO of Hornady Transportation. "The guarantee gives them assurances of being paid, even if they're not driving due to customer delays, congestion, operations, and market conditions. Rolling out this program will help protect our drivers from issues they have no control over.
"We continue to grow. We're up to 270 trucks and are always looking for quality drivers to join our team. We offer a $2,500 sign-on bonus, orientation pay that we've increased to $1,000, plus other bonuses for driver and customer referrals."
Based in Monroeville, Alabama, Hornady Transportation, which was founded in 1928, hauls building products, steel components, and structures. In 2015, Hornady merged with Daseke Inc., the largest owner of flatbed, open-deck and specialty trucking capacity in North America.
The company operates a fleet of 270 late model trucks and 375 flatbed trailers. Hornaday said his company recently acquired 2018 Kenworth T680s and what he calls "a very young fleet. Our trucks are top-of-the-line and average less than 3 years in age. We've made an effort to customize the trucks with chrome packages, dual stacks and premium interiors; we're high image."
He said Hornaday's top drivers average more than 2,300 miles per week. He added that the company's driver to dispatch ratios continue to drop.