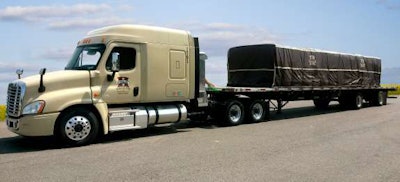 Hornady Transportation LLC, a Daseke company located in Monroeville, Alabama, is increasing per-mile pay for both current and new-hire drivers and increasing other incentives. The raise comes just two weeks after Hornady, a specialist in flatbed hauling, announced it will guarantee drivers a minimum weekly pay of $1,000.
Under the new pay schedule, drivers hired with at least 36 months driving experience will receive 53 cents a mile, up from 49 cents a mile, according to a statement from the company. Starting rates for drivers with less experience were also increased. On a drivers' anniversary date, they'll receive penny-a-mile increases, up to a cap of 56 cents a mile, said Hornady.
Drivers already with Hornady will also benefit from the new pay schedule, with an immediate increase for current drivers from 52 cents per mile to 54 cents. They too will see increases on each anniversary until they reach the 56-cent cap.
"We are increasing our pay to attract experienced drivers with a strong work ethic," said Chris Hornady, the company's chief executive officer. "We're a growing company with an expanding fleet of 270 trucks, and we need to recruit the industry's best drivers. These pay increases will help us do that. We also want to reward our experienced drivers who have helped make this company what it is today."
This pay increase is in addition to previous increases which included tarp pay, layover pay, detention pay and breakdown pay, according to the company.
New drivers receive a $2,500 sign-on bonus and orientation pay, which was recently increased to $1,000. They will also receive a $4,000 grant in the Daseke stock ownership program.