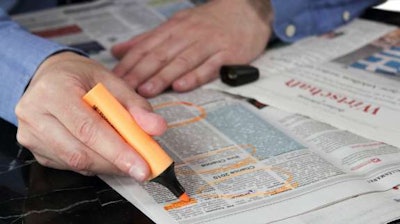 Employment figures in the trucking industry have been flat most of the year — following strong first quarter gains — and the last month was no exception.
Total employment in the for-hire trucking industry fell by 100 jobs in October, according to the Department of Labor's monthly Employment Situation Report.
The DOL did upwardly revise its initial September for-hire trucking employment total by 2,400 jobs from the preliminary 100-job gain reported last month.
The U.S. economy as a whole added 261,000 jobs in October, pushing the unemployment rate down to 4.1 percent.
For-hire trucking industry employment totaled 1.4735 million in October. That does not account for private fleet employment data and is based on payroll employee numbers. October's total was up 13,500 jobs from the same month last year.