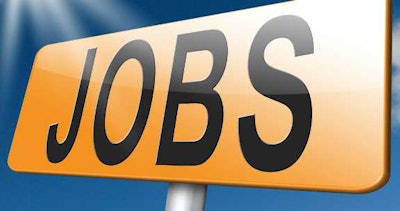 Total employment in the for-hire trucking industry fell by 100 jobs, according to the Department of Labor's monthly Employment Situation Report.
Trucking industry employment has been stagnant most of the year, except for a few strong months in the first quarter.
The U.S. economy as a whole lost 33,000 jobs in the month, with the Labor Department blaming the impacts of hurricanes Irma and Harvey. Though September's loss was the first monthly drop in seven years, the country's unemployment rate dipped to a 16-year low of 4.2 percent.
For-hire trucking industry employment totaled 1.4712 million, which doesn't account for private fleets and is based on companies' payroll employees. Compared to last September, trucking industry employment was up by 16,800 jobs.
The transportation and warehousing segment, under which trucking falls, gained 21,800 jobs in the month, with the transit and ground passenger transportation sector growing by 9,400 jobs and the warehousing and storage sector growing by nearly 5,000 jobs. Those gains are likely directly associated with hurricanes Harvey and Irma.
The construction industry in September added 8,000 jobs.