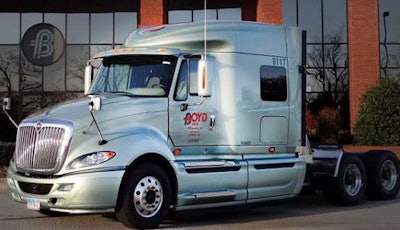 An Alabama flatbed company is offering a major sign-on bonus for experienced drivers through the end of the year.
Boyd Bros. Transportation, a Daseke company located in Clayton, Alabama, this week announced it was offering what it claims is an "industry-high" $14,000 sign-on bonus for experienced flatbed CDL-A holders who join the carrier as company drivers before the end of the year. Owner-operators and lease/purchase drivers are eligible for a $10,000 sign-on bonus.
Offered through Dec. 31, the sign-on bonus is a combination of what Boyd Brothers says is a $10,000 "quick pay out with a long-term $4,000 stock grant for company drivers." Qualified drivers will be paid a portion on the check that includes their first dispatch. The remaining bonus will be paid quarterly in six equal payments.
According to the company, flatbed drivers with a minimum of six months' experience hauling coils who have a stable work history, "stellar safety record and strong work ethic" are needed as its shippers are growing rapidly.
"Boyd is founded on professionalism and providing industry-leading customer service, therefore we are seeking the top flatbed drivers in the industry," says Chris Cooper, president of Boyd Companies and CEO of Boyd Bros. Transportation. "We believe that if we offer top pay, treat our drivers with respect, and maximize utilization, we can attract and keep the best flatbed drivers."
In business since 1956, Boyd Bros. has terminals in Birmingham, Alabama, and Cincinnati, Ohio.