Memphis, Tennessee-based Ozark Motor Lines, Inc., recently announced a new pay package for its company drivers that includes increases in cents per mile and accessorial pay.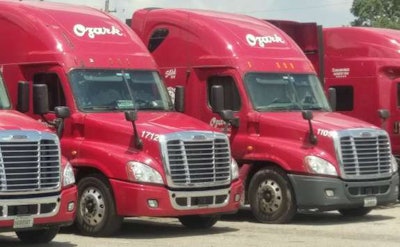 According to a statement from the company, starting rates for line haul drivers under the new pay plan are 41 cents per mile for drivers with less than a year of experience up to 46 cents per mile for drivers with five or more years of experience. Top out pay is 48 cents per mile. Line haul team drivers start at between 23-26 cents per mile, topping out at 26 cents per mile. Regional drivers can expect to start at between 38-43 cents per mile, depending on experience, with top out pay at 46 cents per mile, according to the company.
"At Ozark, we're committed to bringing drivers the best when it comes to their compensation packages," said Mike Higginbotham, director of recruiting. "We're proud that Ozark is a place where drivers truly feel at home and know they can have a successful career here."
To drive for Ozark Motor Lines, applicants must have at least three months of recent OTR experience, a valid CDL-A and be at least 23 years old.
Founded in 1961, Ozark Motor Lines, Inc. has terminals in Lebanon, Tennessee, Maysville, Kentucky, Springfield, Missouri, and Lenoir, North Carolina. The company operates in 48 states and the District of Columbia.