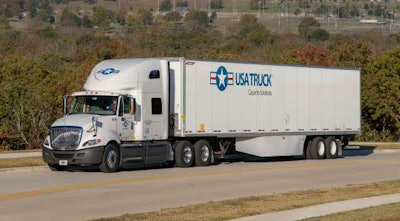 USA Truck will pay the training fees for 15 qualified applicants who enroll in a five-week Commercial Driver's License Training Program offered through a partnership between the University of Arkansas Global Campus, Northwest Technical Institute, and Mid-America Truck Driving School.
Participants can apply for these scholarships through the USA Truck Career Launch Program. Scholarship recipients who complete the training program offered through the U of A will be given preference for job openings with USA Truck. Recent U.S. veterans are eligible for a $1,000 hiring bonus and may qualify for an upgraded pay package.
Scholarships cover the $4,250 enrollment fee for the Commercial Driver's License Training Program. The five-week program offers day or evening classes, with six starting dates each year.
The training program includes 200 hours of combined classroom and behind-the-wheel training. Each course is designed to provide the student with the necessary knowledge, skills and abilities to obtain a commercial driver's license.