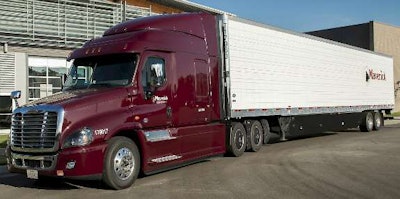 Little Rock, Arkansas-based Maverick Transportation has announced a $.05 per mile pay increase for its flatbed and glass over-the-road divisions. This pay increase is applicable to all drivers in both divisions, including student drivers, according to a statement from the company.
The pay increase goes into effect Dec. 18 and, according to the company, brings base pay for OTR flatbed drivers to $.51 – $.56 per mile, and regional OTR flatbed drivers to $.49 – $.54 per mile. Glass division drivers will now make $.55 – $.60 per mile base pay, while students will start between $.43 – $.50 per mile base pay, depending on division.
Many of Maverick's dedicated divisions will also receive pay increases.
This is the second pay increase for Maverick Transportation drivers in recent months. The carrier had a $.04 per mile pay increase for its temperature control division at the end of last year.
"At Maverick Transportation, we pride ourselves on setting the industry standard when it comes to driver compensation," says John Culp, president of Maverick Transportation. "We are constantly looking for ways we can put more money in our drivers' pockets."
Maverick operates over 1,600 units, providing OTR and dedicated service to the flatbed, glass, and temperature control transportation markets throughout North America.