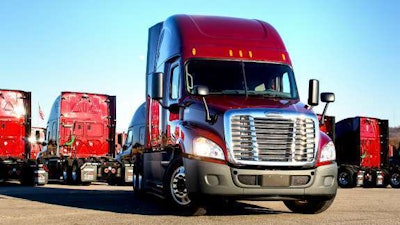 Super Service, a regional and dedicated full truckload carrier, this week announced it was raising pay for company drivers, students, and teams.
"OTR company drivers and teams will earn 4¢ more per mile while students and regional drivers will earn 2¢ more per mile," said Vaughn Yow, vice president of operations for Super Service. "Not only does that significantly boost the drivers' paychecks, when it's combined with our groundbreaking P3 program, we're talking the potential for a 10¢-per-mile raise."
Super Service's P3 — Performance Plus Pay — program enables drivers to increase their pay by as much as 6¢ per mile. With P3, drivers determine how much more they are paid above base rate – which is now even higher — based on these incentives: HazMat endorsement (1¢/mile; endorsement reimbursed by Super Service); Safety bonus (2¢/mile); Availability (1¢/mile); Miles per gallon (1¢/mile); and Service performance (1¢/mile). Every month, Super Service drivers are evaluated on each of the incentive areas.
Super Service also offers a $5,000 sign-on bonus, according to Ronnie Presley, director of driver recruiting.
Super Service operates regionally in the Southeast, Midwest and Eastern U.S. with over 1,000 employees and contractors.