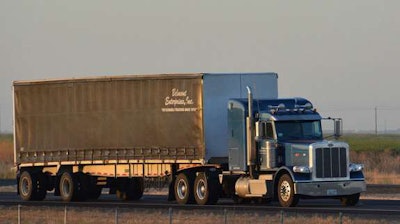 A glass hauler in the Pacific Northwest has joined forces with a major flatbed carrier.
Smokey Point Distributing, Tuesday announced Belmont Enterprises has joined the company. Headquartered in Olympia, Washington, Belmont is a dedicated glass hauler.
According to a statement from Smokey Point, which is a Daseke company located in Arlington, Washington, Belmont specializes in moving sheets of clear and coated glass, some as large as 102 inches tall by 144 inches long. The company's patented swivel top tie-down system, which is used with metal racks mounted on roll-top trailers, eliminates the need for ladders in loading, according to the statement.
"There is a lot of synergy between our two companies in philosophy, customer service and ethics," said Dan Wirkkala, president and CEO of Smokey Point. "Belmont Enterprises began operation in the 1970s by Jack and Mary Jo Belmont with just one truck. As CEO, Jack Belmont has since done a wonderful job developing a premier West Coast glass-hauling business. I've known Jack for 20-plus years, and have always been impressed with his business."
This is the second glass haulers to join Daseke lately. Last month Moore Freight Service, joined Daseke.