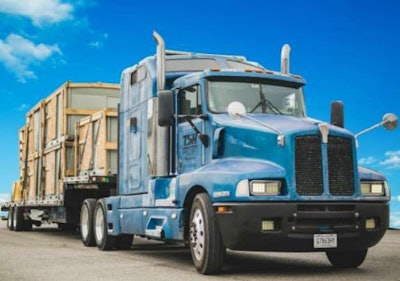 A major Texas-based flatbed specialist organization has acquired three more companies, making itself about 40 percent larger.
Daseke, Inc., based in Addison, Texas, Monday announced that three additional carriers have joined the company. They include:
Tennessee Steel Haulers & Co.

The Roadmaster Group

Moore Freight Service
"Today is a significant milestone for Daseke, as our company's total revenue, EBITDA and fleet size are all now approximately 40 percent larger," said Don Daseke, president and CEO of Daseke. "We've added three exceptional organizations to our family of operating companies focused on unique sectors with promising growth characteristics."
Daseke now controls more than 5,200 tractors, more than 11,000 flatbed and specialized trailers, and a million-plus square feet of industrial warehousing space, according to a statement from the company.
Tennessee Steel Haulers & Co. Based in Nashville, Tennessee and founded in 1977 by Sid Stanley, TSH & Co. is now in its second generation of family leadership. The company conducts business through a 100 percent asset-light operating model with operations throughout the East Coast, Southeast and Mexico.
The Roadmaster Group The Roadmaster Group, based in Phoenix, Arizona, was formed in 2011. In 2016, it purchased Tri-State, one of the largest high-security cargo carriers in the industry.
Moore Freight Service Based in Mascot, Tennessee (near Knoxville), Moore Freight Service delivers commercial sheet glass (as large as 17 by 10 feet and more than an inch thick) throughout the Midwest, East Coast and Canada to companies that cut the glass to size in finished products. It began with one contract and three trucks, and has since grown to using over 300 specialized trailers.