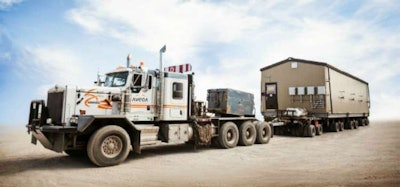 Daseke, Inc. Monday announced it has entered into a merger agreement with Aveda Transportation and Energy Services, one of the largest oil rig moving companies in North America.
Aveda provides specialized transportation services and equipment required for the exploration, development and production of petroleum resources in the U.S. and Canada. Aveda owns about 430 tractors, 660 trailers and 200 light-duty trucks.
Under terms of the agreement, Daseke will pay 71 cents per share, and assume Aveda's debt. In addition, up to 36 cents per share in cash contingent consideration to be paid based on EBITDA earnings.
Aveda shareholders will have the choice of accepting cash, the equivalent in Daseke stock, or a combination. The agreement was unanimously approved by both companies' boards of directors, and is expected to close in June.
"Aveda has built a team with a passion for excellence and a clear vision of their goals thanks to a leadership team that has orchestrated a significant turnaround in the company," said Don Daseke, chairman and CEO of Daseke.
"With 90 percent of our operations in the U.S., we believe joining Daseke's expansive U.S. operations will provide us with significant benefits due to their scale and resources," said Aveda President and CEO Ronnie Witherspoon. "This will serve to strengthen our philosophy, and our entire team is excited to join forces as one."
Aveda's revenue base is diversified across all seven of the major U.S. oil basins, which account for nearly 90 percent of its revenue.