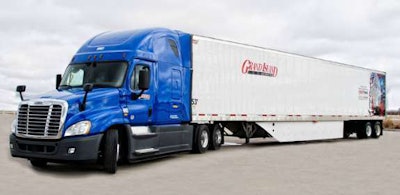 Eighteen fleets are winners in the Truckload Carriers Association's 42nd annual Fleet Safety Awards.
The top three winning companies from each division had the lowest accident frequency ratios per million miles annually, according to TCA. The fleets are now eligible for one of two grand prizes – one for carriers with a total annual mileage of less than 25 million miles, and one for carriers with more than 25 million miles per year.
Grand prize winners will be announced at TCA's annual convention in Kissimmee, Fla., on March 25-27.
The division winners for the TCA Fleet Safety Awards include:
Division I – Less than 5 million miles
1st place – Stageline Express
2nd place – FTC Transportation
3rd place – Art Pape Transfer
Division II – 5 million to 14.99 million miles
1st place – Boyle Transportation
2nd place – Marvin Keller Trucking
3rd place – Chief Carriers
Division III – 15 to 24.99 million miles
1st place – Kottke Trucking
2nd place – High Country Transportation
3rd place – Grand Island Express
Division IV – 25 to 49.99 million miles
1st place – Trans-West Logistics
2nd place – Erb International
3rd place – Nussbaum Transportation Services
Division V – 50 to 99.99 million miles
1st place – Groupe Robert
2nd place – Halvor Lines
3rd place – Ashley Furniture Industries
Division VI – 100 million or more miles
1st place – Bison Transport
2nd place – May Trucking Co.
3rd place – John Christner Trucking