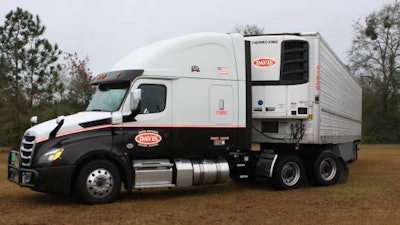 A major truckload carrier located in and serving the Southeast is raising pay for its drivers later this month.
Davis Express, Inc., which is located in Starke, Florida, today announced company drivers will receive a 5 cents-per-mile increase effective Jan. 15.
A statement from the company said new drivers can start with Davis Express, Inc. at up to 50 cents per mile. The 38-year-old company said its pay scale runs from 45 cents per mile for a student driver up to 60 cents per mile for a driver that has 10 years of seniority at the company.
"We appreciate our drivers and the excellent service they provide our customers and one way we can show that is by increasing what they bring home," said the statement from the company.
Family owned, Davis Express has over 300 employees and 600 trailers, most of which are refrigerated. It delivers to destinations in seven states and parts of three others.