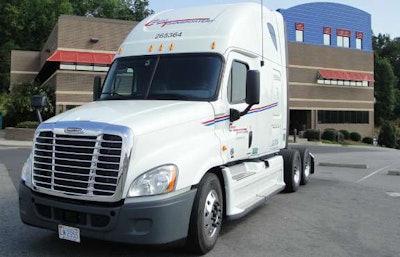 A North Carolina carrier has announced a pay raise for drivers, including new driving school graduates.
Cargo Transporters, Inc. of Claremont, North Carolina today announced a pay raise for all drivers including new truck driving school graduates. The new pay structure goes into effect April 1.
All drivers with one year or more over-the-road experience will start at 46 cents per mile. New graduates will earn 25 cents per mile during their eight-week training then shift to 44 cents per mile. After six months from hire date, their pay goes up to 45 cents per mile, then to 46 cents per mile one year from their hire date.
"We see this increase as a way to touch our existing drivers and also encourage potential new drivers to join our team," said Jerry Sigmon Jr., vice president of operations for Cargo Transporters. "This increase is so important because over-the-road driving is hard work. We want to take care of the men and women out there taking care of us.
"We know there are many new drivers coming into the industry every day. Cargo Transporters wants to offer them an opportunity to join our team at a very competitive wage on the very first day."
Started in 1983, Cargo Transporters, Inc. is a truckload, dry van carrier operating over 500 units across the continental United States, with special emphasis on lanes east of the Rockies.