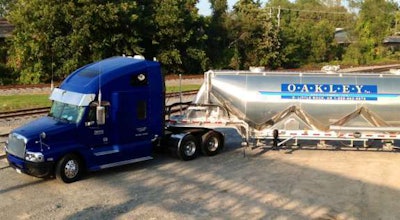 Arkansas-based dry bulk hauler Oakley Trucking, Inc. announced a 10 cents-per-mile pay increase on all miles loaded and empty for all owner-operators in its three divisions beginning today, Feb. 26.
The company said the pay increase is tied to a driver's rating in the Federal Motor Carrier Safety Administration's Compliance, Safety and Accountability system.
A new lease operator that joins Oakley will receive the additional 10 cpm on top of the current mileage pay system. According to the company, a newly leased driver begins with a score of "0." Then the amount of the additional 10 cpm is based upon their CSA score.
The FMCSA updates the CSA system monthly and Oakley said it will check each individual operator's roadside inspections and any points assigned to them. The additional pay and the CSA points on which they are based are:
0 points = 10 cpm
1-15 points = 6 cpm
16-30 points = 4 cpm
31-60 points = 2 cpm
Oakley's end dump owner-operators will now make $1.82 per loaded mile and $1.42 per empty mile with the current fuel surcharge rate.