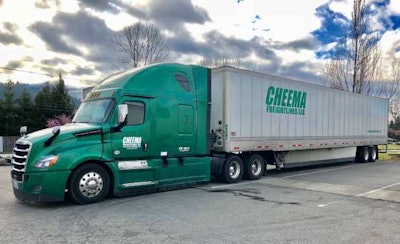 Two carriers — one in Washington and the other in Illinois — are the latest to announce pay raises for their drivers.
Cheema Freightlines, based in Sumner, Washington, announced a 2 cents-per-mile increase for its I-5 long-haul drivers, starting at 43 cpm with one year of CDL driving experience and up to 50 cpm for eight years of experience. Pacific Northwest and intrastate California drivers will start at 45 cpm with one year of experience and up to 52 cpm for eight years of experience.
Additionally, drivers for the 121-truck fleet who exceed 32,500 miles per quarter will be paid an additional 15 cents-per-mile for all miles above that with no safety violations, failed inspections or citations. The company also offers a $500 referral bonus to drivers who refer another driver that gets hired.
A.N. Webber, a 175-truck fleet out of Kankakee, Illinois, recently announced a pay increase for drivers, bumping OTR driver pay to 47 cents-per-mile and regional driver pay to 49 cents-per-mile. Hourly drivers are also receiving a pay increase to $17.55 an hour.
Additionally, Webber drivers active on July 1 will receive a $1,000 "thank you bonus" on their next check.