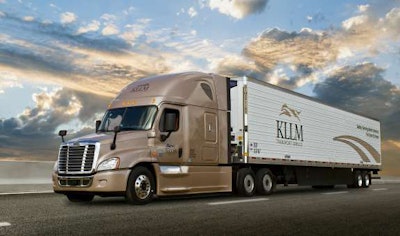 KLLM Transport Services, LLC, a temperature-controlled carrier based in Jackson, Mississippi, recently announced a pay increase for company truck drivers.
Effective immediately, KLLM solo company drivers will receive $0.45 to $0.55 cents per mile depending on their levels of experience, with OTR teams being paid $0.55 to $0.60 cents per mile depending on experience.
With this increase, a statement from KLLM says it has increased driver pay 30 percent in the last eight months.
"We're offering one of the highest company driver pay plans in the industry," said Jim Richards, president & CEO of KLLM. "Our driving force is the most important asset we have, and we want to provide them with the top-tier income that they deserve."
KLLM offers over-the-road, regional and dedicated temperature-controlled services throughout the United States and Mexico.