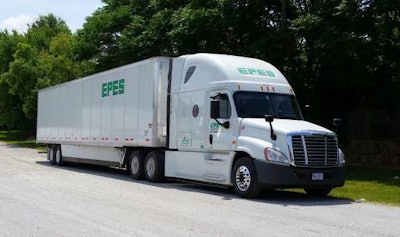 Epes Transport System, Inc. of Greensboro, North Carolina recently announced what it says is the largest pay increase in the company's 85+ year history.
For company drivers, Epes has raised its per-mile pay by 2 cents, effective June 3. The company said there also now is an extra 2 cents-per-mile performance bonus that gives drivers the ability to double their pay increase to 4 cents per mile by meeting monthly mileage and delivery goals.
"We appreciate the support our tremendous customer base has provided through rate increases and business opportunities," said Richard E. Kuehn, president of Epes Transport System. "With this support, we are following through with our commitment to increase our driver pay and are proud to announce the largest single driver pay increase in the history of Epes Transport System."
For independent contractors, Epes now offers percentage-based pay so their pay increases when rates increase and reflect the value of freight hauled, according to a statement from the company.
Epes is a truckload common and contract carrier headquartered in Greensboro, North Carolina with over 1,200 units. Epes has authority in the 48 contiguous states and is most active in the eastern two-thirds of the United States.