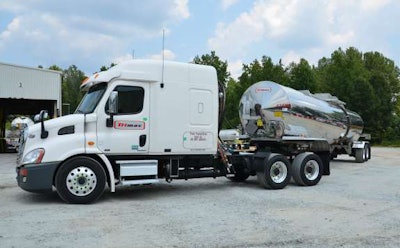 A major provider of bulk transportation across North America has raised pay for some its drivers.
Trimac Transportation said recently it was raising pay an average pay increase of 11 percent for company drivers and owner operators in the Southeast U.S. Owner operators will now make $1.72 per loaded mile for loads over 250 miles round trip. Trimac's fuel surcharge is paid on all miles, loaded and empty, in the U.s.
Founded in 1945, Trimac transports dry bulk, chemicals, food products, petroleum, industrial gas, and other resource commodities. It was recently recognized by the National Tank Truck Carriers Association as the Grand Award winner in the injury frequency category for the over 90-million-mile group.