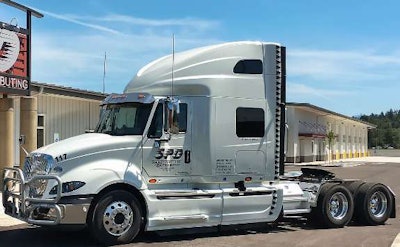 A major flatbed carrier in the Pacific Northwest is the latest company to announce it will begin paying annual salaries to its drivers.
Smokey Point Distributing, a member of the Daseke family of companies, has announced that starting June 1, it will pay qualified solo over-the-road drivers with flatbed hauling experience an annual salary of $65,000 and each qualified and experienced member of a driving team an annual salary of $75,000.
A statement from the company, which is located in Arlington, Washington, said annual salaries provide a consistent income regardless of the number of loaded miles an OTR driver runs each week. In addition to the annual salary, drivers will still have the opportunity to earn compensation and annual bonuses for certain accessorial, mileage, safety and driver referrals, according to the company.
"By offering drivers consistent paychecks, we are providing drivers and their families financial stability, comfort and peace-of-mind, while also providing them the opportunity to earn additional pay and annual bonuses that could be incredibly rewarding," said Dan Wirkkala, CEO of Smokey Point. "Our company is taking ownership of our operational efficiency in good times and bad. Our drivers will no longer be financially affected by a temporary lack of sales, delays due to weather or equipment maintenance requirements or delays in loading or unloading. Our new annual salary pay program will mean more stable incomes so they won't have to put off paying their rent, mortgage or car payment until their next paychecks.
"We feel that about half of our drivers will migrate over to the new salary package, from our existing mileage plan. Our senior drivers are making $75,000 or more, based on our mileage/bonus program. The new plan will really come into play for our newer drivers who now have the guarantee of a regular, high-paying pay check. While we have a very envious low driver turnover rate, the majority that do leave, leave in the first year. We expect that by being on salary, it will help strengthen our position with new drivers and make Smokey Point and even better place to work."
"Inconsistent pay, pay cuts or paychecks that aren't enough to support themselves and their families have historically led to high driver turnover rates in our industry," said McManama. "Through this new pay program, drivers can experience the freedom of financial independence and some true stability without those ultra-lows that happen often at no fault of their own."
Smokey Point has been named one of the "Best Fleets to Drive For" in 2017 and 2018, and last year placed first in the Truckload Carrier Association's National Fleet Safety Awards in Division III (15 million to 24.99 million miles a year) for the second year in a row.
Writing in our sister publication, Overdrive, Senior Editor Todd Dills reports:
SPD is not the only flatbed carrier to make such a move in recent months as flatbed spot market demand has shown incredibly tight conditions and upward pressure on rates in the wake of the December and April compliance deadlines for the federal electronic logging device mandate. Alabama-headquartered Boyd Bros. began promoting its "Mission Fleet" regional prototype with a similar pay structure in late January. Other truckload carriers, too, have moved in the direction of daily, weekly, monthly or annual guarantees for OTR drivers in recent times as well.