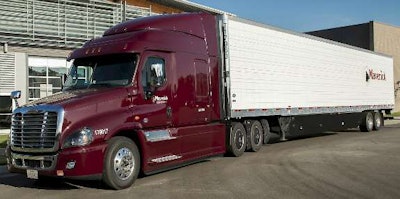 An Arkansas carrier is raising pay for student drivers and has instituted a new "pay for experience" compensation plan.
Maverick Transportation LLC, recently announced its student pay increase is applicable to all OTR divisions, bringing student starting pay to between 47 and 53 cents per mile depending on division. In addition, the new pay for experience plan will give months of service credit for all drivers, according to a statement from the company.
The pay increase, which goes into effect June 17, 2018, will bring starting pay for student drivers to 47 cents per mile for flatbed regional division, 49 cents per mile for flatbed OTR division, 53 cents per mile for the OTR glass division, and 49 cents per mile for the OTR temperature control division.
In addition, all drivers, including student and experienced will receive pay for verifiable months of service credit, up to a maximum of 48 months. Maverick's $5,000 sign-on bonus now applies to all drivers with at least six months verifiable OTR experience.
"Maverick is excited to announce this significant pay increase for our student drivers." said John Culp, president of Maverick Transportation. "We recognize that it is imperative that our industry bring new entrants into the truck driving profession and we are proud to be a leader in creating that opportunity."
This is the fourth pay increase for Maverick Transportation drivers in recent months, according to the company. The Arkansas-based carrier rolled out a 5 cents per mile increase for its OTR temperature control division in April.
Founded in 1980, Maverick is based in Little Rock, Arkansas, and operates over 1,700 units. Maverick provides OTR and dedicated service to the flatbed, glass, and temperature control transportation markets throughout North America.