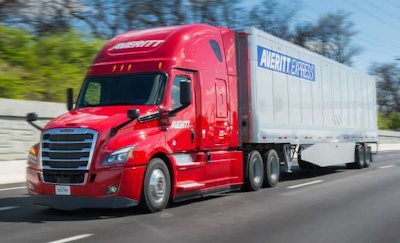 A Tennessee carrier is the latest company to raise pay for some of its drivers.
Averitt Express, which is located in Cookeville, Tennessee, recently announced a pay increase for newly hired regional truckload drivers.
Experienced over-the-road drivers will now start at 46 cents per mile. For drivers with less than six months of experience, this rate will begin after they complete one of Averitt's training programs, according to a statement from the company.
"We're proud to provide our regional drivers with competitive pay, as well as a great benefits package and positive working environment," said Elise Leeson, Averitt's vice president of human resources. "All of these are part of our overall commitment to providing a high quality of life for our driving force, and making sure our team is strong for the long haul."
Other recent enhancements for Averitt regional truckload drivers, according to a statement from the company, include 100 percent no-touch freight, the opportunity to drive solo with six months experience, and hazardous materials and tanker endorsements are no longer required in order to be hired.