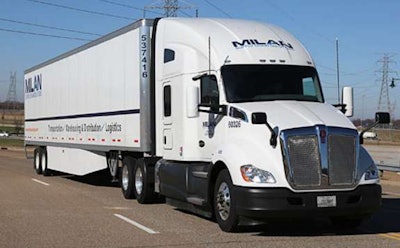 A Tennessee-based carrier is the latest company to join the wave of driver pay increases.
Milan Supply Chain Solutions, Inc. today announced what it said is the carrier's second pay increase in 2018 for regional over the road drivers.
Effective July 8, an experienced company driver will be paid 42 to 52 cents per mile, resulting with annual earnings of $63,960 to $76,960 based on 2,500 miles per week, according to the company. Company teams will make from 49.4 cents to 54.4 cents per mile, with annual earnings of $143,000 to $150,800 for 5,000 miles per week, a statement from the company said.
Milan said the new pay plan also increases stop pay by 33.3 percent and hourly pay for all accessorials by from 9 to 50 percent.
Based in Milan, Tennessee, the carrier operates over 400 power units and about 1,500 trailers. It provides truckload, dedicated, brokerage and warehousing and distribution services.