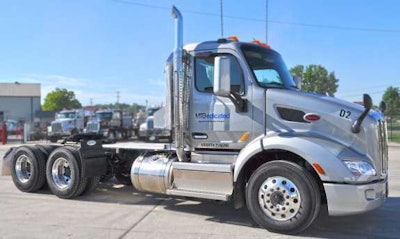 One flatbed carrier is taking steps to enhance the quality of its drivers' lives by creating opportunities for more home time.
Montgomery Transport, LLC, a flatbed company based in Birmingham, Alabama earlier this week announced the formation of a new division, MT Dedicated. Expected to launch later this month, the company said the new division will, among other things, increase home time for its professional drivers.
MT Dedicated will focus on hauling customer-specific freight in a defined, regional area that will provide a value-added service to customers in addition to the increased home time and top-tier wages to professional drivers, according to a statement from the company.
Most of the drivers will be running an average of 220 miles or less regionally, and drivers can expect to be home around three nights a week and early on the weekends, according to a company spokesperson. We are expecting to have around 100 drivers in this division by this time next year, they said.
"We have recently made several improvements to our professional drivers' pay package and benefits, began a lease purchase program, and created a huge referral incentive for our drivers," said Rollins Montgomery, CEO of Montgomery. "These are in an effort to help us grow the fleet through creative strategies which provide an opportunity for our drivers to improve their take-home pay.
"I am committed to continue to put forth new initiatives to better our employees, their families, and our customers."
Montgomery Transport specializes in over-length and over-width hauls.