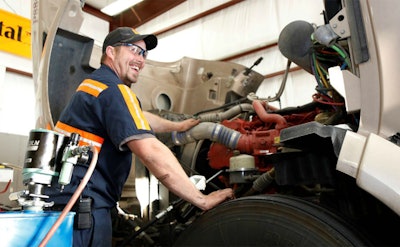 Love's Travel Stops wants to fill more than 1,200 full-time and part-time positions for tire technicians, mechanic apprentices, and diesel mechanics during a one-day hiring event from 8 a.m. to 6 p.m. Feb. 28. The event will be held at each of Love's 350 Truck Tire Care Centers and Speedco locations in the U.S.
Interested applicants will be interviewed on-site while learning more about Love's. Qualified candidates can be offered jobs on the spot contingent upon pre-screening requirements, according to the company.
Candidates should bring copies of their résumé and expect to submit to a drug screen and background check contingent upon receiving an offer. Eligible full-time employees can take advantage of Love's health and wellness benefits, including 401(k) with matching contributions, medical, dental, vision and life insurance coverage, flexible scheduling, holiday pay and competitive weekly pay, according to the company. Part-time employees will receive dental, vision, telemedicine and other voluntary benefits.
A statement from Love's says newly hired diesel mechanics will start between $22 – $27 an hour.
To register for Love's National Hiring Day, click here. For a list of Love's Truck Tire Care and Speedco locations participating in Love's National Hiring Day, click here.