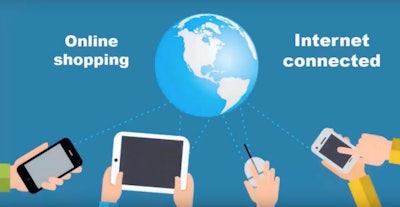 The rise of e-commerce over the last 20 years has placed pressure on the trucking industry to adjust its operations and adapt to shrinking delivery windows and shorter hauls, according to the latest study from the American Transportation Research Institute.
ATRI notes the rise of online shopping and e-commerce could be good news for the truck driver shortage – the top issue facing the trucking industry according to ATRI's annual fleet survey – as local pickup and delivery operations keep drivers closer to home, eliminating a frequently cited quality of life concern for truck drivers. However, ATRI says this could also lure drivers away from the truckload sector, further exacerbating the high turnover rates for truckload carriers.
The move to more local hauls could also be leveraged as a training opportunity for young truckers, ATRI says. They could acquire training and experience between the ages of 18 and 21 hauling locally before transitioning to interstate operations when they turn 21.
Since 2000, the average length of haul for dry van truckloads has fallen by 296 miles, or 37 percent, from about 800 miles per trip to about 500 miles per trip. The impact has also been seen in less-than-truckload and courier services, ATRI reports.
Truck vehicle miles traveled (VMT) are still below the pre-recession peak, but there has been growth in truck VMT since 2011, most of which has been seen in urban areas where truck miles increased by 17.7 percent between 2011 and 2016. Rural miles declined in this same period by 2.2 percent.
ATRI adds that e-commerce has significantly increased the number of short-haul and last-mile trips, which is in line with the growing volume of shipments in densely populated urban areas that trucking companies attribute to e-commerce.
E-commerce has also prompted a number of carriers to add "final mile" services, along with "white glove" deliveries of large and bulky items like furniture and home appliances to residences. ATRI says a few large carriers, including Schneider, J.B. Hunt and XPO, are not only delivering these items to residences but also providing value-added services like installation, product assembly and repairs.
"Ultimately, trucking operations will need to remain flexible and continue to adapt as the implications of e-commerce and omni-channel retailing shake out," ATRI says. "The industry has largely benefited from this source of growing demand for truck transportation, and is presented with an opportunity to expand into a growing industry segment – the 'last mile.'"