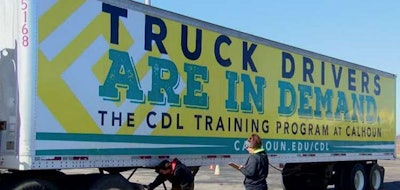 Calhoun Community College in Decatur, Alabama, is offering free CDL training to a class of aspiring truck drivers thanks to a local workforce grant.
The college received a $26,5000 grant from the Alabama Craft Training Board for its CDL program as a way to recruit more truckers for the local construction industry. The money will allow for a class of students to complete a five-week, 200-hour training course for free. They will then test for their Class A or Class B CDL licenses. The free class is already full.
"Students enrolled in the course will learn to operate trucks pulling trailers such as lowboys, dump trucks, and concrete mixing trucks. Upon successful completing, students will receive a Class A or Class B automatic license which is required in the construction industry," said Donna Bass, Calhoun's College Workforce Solutions manager.
Calhoun's CDL program typically runs 160 hours and costs $2,950.