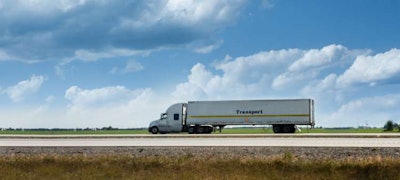 America's trucking industry continues to have fewer drivers — especially long-haul, over-the-road truckers — than it needs for the amount of freight it has to move, and that shortfall could get worse in coming years.
That's the overview of the latest research released Wednesday, July 24 by the American Trucking Associations. Here are the key takeaways from the report — "Truck Driver Shortage Analysis 2019″ — and a call with reporters Wednesday by ATA Chief Economist Bob Costello, the lead author of the report.
Takeaway #1: The industry is expected to be short 59,500 drivers this year. That compares to an estimated 60,800 in 2018 when freight volumes increased in large measure due to international trade issues. This year's shortage is expected to be down as the economy cools, productivity improves and awareness of job opportunities is greater.
Takeaway #2: Driver shortages are expected to continue for at least the next 10 years. Unless things change, the shortage could balloon to more than 160,000 by 2028. The ATA's report says the industry will need to hire about 1.1 million new drivers — some 110,000 per year — in the next decade.
Takeaway #3: Driver pay will increase as long as there is a shortage. Last year's freight boom and the demand for drivers that accompanied it prompted many carriers to increase pay, institute guaranteed minimum weekly pay, offer larger sign-on bonuses and sweeten their benefits package. ATA's report says, "Expect driver pay to continue rising as long as the driver shortage continues. Good benefits are also regularly part of a total compensation package in the industry."
Takeaway #4: America's corps of truckers is not getting any younger. ATA's report and Costello's comments show that the median age of for-hire, over-the-road, truckload drivers is 46. That compares to 42 for all U.S. workers, according to Costello. Other industry segments are even grayer: private carriers have a median age of 57, and less-than-truckload carriers have a median age of 49. This means, according to the ATA study, that retirements will account for 54% of the need for drivers in the years ahead. In addition, the average age for new drivers is 35.
Takeaway #5: Trucking remains a man's world. Despite continuing and growing efforts, carriers have struggled to recruit women. ATA says the number of Class 8 tractor-trailer drivers who are women has ranged from 4.5% to 6.6% during the last 18 years. By comparison, women make up about 47 of the entire U.S. workforce. The report does add, "Some trucking companies have put an emphasis on female drivers, but the highest percentage of female drivers we have seen is about 20% for those fleets."
Takeaway #6: The industry has hired more minority drivers. ATA's study says the number of minority driver has increased by almost 14 percent in the last 18 years, from 26.6% in 2001 to 40.4% in 2018.
Takeaway #7: Trucking is not a job for everyone. As most drivers know, going over the road means being away from home, often for weeks at a time, and that's not what many people want in a job. ATA cites this as a reason to make it possible for companies to hire drivers under 21 years of age. "That is an age when, in many cases," says the report, "a person wouldn't mind being on the road, before starting a family. And, with am improved job market, there are more job alternatives "for current drivers and would-be drivers."